Alfred (Al) Schroeder '46
The Brooklyn Tech community mourns the loss on January 1st of deeply engaged alumnus, Alfred (Al) Schroeder '46. The Alumni Foundation was proud in 2018 to host a dedication ceremony for the Al Schroeder '46 Industrial Design Laboratory, made possible with support from longtime friend Floyd Warkol '65, chairman/CEO, KSW Mechanical.

Al was Vice President and Chief Engineer of KSW and began his career as an engineer at two of NYC's leading engineering firms. After working as a Vice President of a large general contractor on projects such as the JFK Airport Mail Facility, Al joined a KSW predecessor company in 1981 and continued ever since to provide valued engineering services to design professionals and contractors who work with KSW. 

At the lab dedication event, Al made a generous gift to benefit the Industrial Design major at Brooklyn Tech. Al, who most recently participated in Homecoming 2022, will be missed by all who knew him.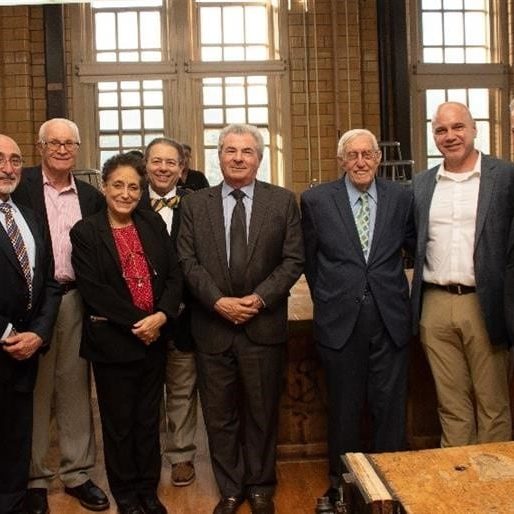 (l. to r.) Mike Weiss '57, Elizabeth Sciabarra, Ed LaGrassa '65, Floyd Warkol '65, Al Schroeder '46, and Sal Lentini '79
David H. Abramson, MD '61 David H. Abramson, MD '61 is an eye surgeon specializing in eye cancer who is the founding Chief of the Ophthalmic Oncology Service at Memorial Sloan Kettering, where he is Professor of Surgery, Pediatrics and Radiation Oncology, and Professor of Ophthalmology at Weill/Cornell Medical School….
more