We mourn the passing of Eileen P. Cuhaj, a beloved member of the Brooklyn Tech community. Eileen served 16 years at the Alumni Foundation, starting in 1990 and ending with her retirement as office manager. She was the then-fledgling Foundation's third employee and mother of two Technites: Thomas Cuhaj '74 and George Cuhaj '77, our archivist, who has been active with the Foundation since the beginning. Eileen died on April 28th at 89.
Known for her radiant smile, Eileen was beloved by staff and students alike, and most visible welcoming returning alumni during homecoming.
Eileen (Petrow) Cuhaj was born on August 3, 1932 as the only daughter to Karol and Paulina (Sosulski) Petrow in Astoria NY. Elder brothers were John, Stanley, Edward and Karol. She attended St. Joseph grammar school and Dominican Commercial High School and enjoyed her first job in the office of the Department of Finance of the City of New York. Eileen married George Cuhaj on April 17, 1955 and they had two sons, Thomas (Ann) of Naples, FL, and George of Iola, WI.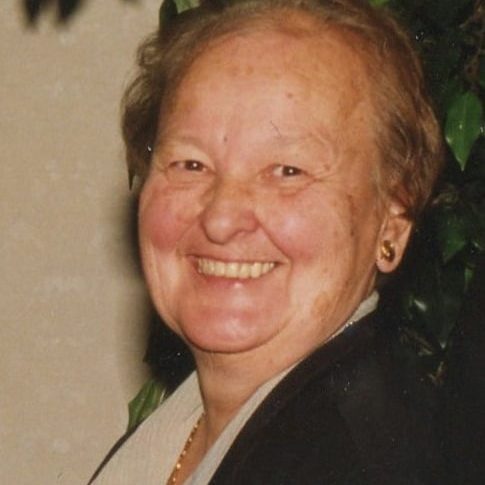 The Alumni Foundation board of directors' thoughts are with George, Thomas, and family and friends. Eileen was a great woman who served so many people well in her many dedicated years at the Foundation and leadership roles in her other communities. She left a legacy that will not be forgotten. Our deepest condolences to all who loved her.
Mike Weiss
Alumni Foundation founder and board director
Returning to the workforce after her sons were in high school, Eileen had two careers, first with the New York Bowling Association and then with the Brooklyn Tech Alumni Foundation. She also served for over 25 years as event photographer for the Most Precious Blood parish monthly bulletin.
Eileen was active as a coach for a number of youth bowling leagues in Astoria and a leader with Cub Scout Pack 90, where she was recognized for 50 years of service in 2017. She took Wood Badge training in both the Cub Scout and Boy Scout programs and was presented the Silver Beaver Award by the Queens Council. Her participation on the Catholic Committee on Scouting of the Diocese of Brooklyn was recognized with the St. George Award.
After her husband George's death in 1993, Eileen was involved as a lay member of the Sisters of the Cenacle, first in Lake Ronkonkoma, NY and more recently in Chicago, IL.
Once her son George moved to Iola she spent summers there, moving to Iola in 2016. Since 2019, she lived with advancing dementia, and died under hospice care.
After cremation, services will take place in Iola, WI, and Astoria, NY. She will be laid to rest in her parents' plot at Calvary Cemetery, Queens.
Gifts in Eileen's memory may be made to the Our Savior's Lutheran Church Quilting Guild, 395 East Iola St., Iola, WI 54945; the Cenacle Sisters, 3800 W. Peterson Ave. Chicago, IL 60659; or the Suanhacky Campership Association, 64-34 99 St. Apt 2A, Rego Park, NY 11374, a group helping make every scout a camper.