Partnerships for a Changing World
Celebrating Brooklyn Tech's Centennial provides the opportunity to not only reflect upon Brooklyn Tech's leadership role in STEM education over the past 100 years, but to look ahead and see how Tech will continue to be a force and a resource in shaping the future of STEM education.
The visionary Dr. Albert Colston, Tech's founding principal, had spent considerable time researching the nation's top specialized technical high schools. This enabled him to articulate the need for a modern technical high school, and to outline a curriculum model that incorporated theory as well as application. He emphasized the difference between a vocational and technical  education, and he advanced a vision of developing young men equipped to be leaders in the emerging "machine age."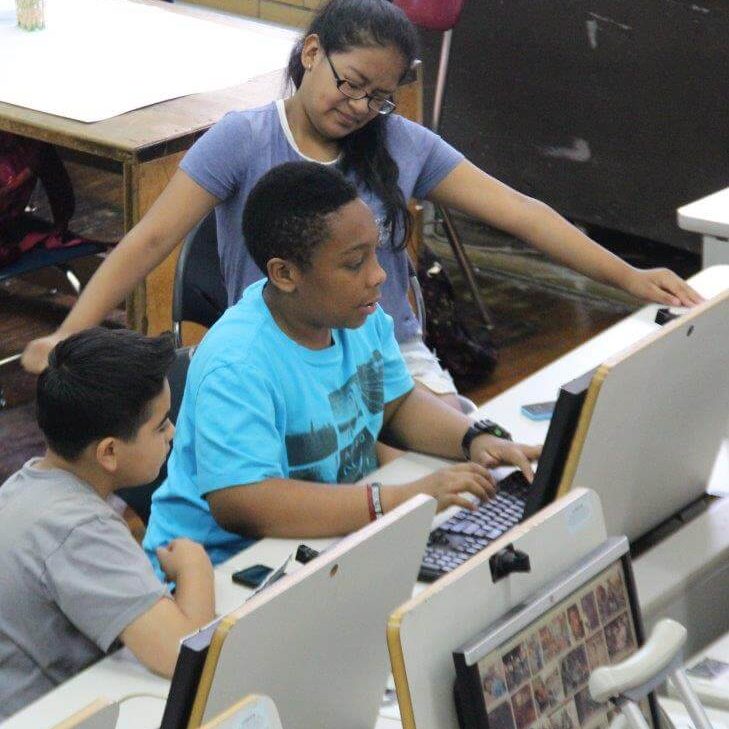 Updating Albert Colston's vision for today—and tomorrow.
Colston knew that a successful secondary education was, as John Dewey noted, "not preparation for life, but rather life itself." Technites were given extensive leadership opportunities in service squads, honor societies, clubs, departmental publications, the school newspaper, and academic and sports teams. These activities were, and remain today, integral components, along with internships and work-based experiences, of the transformational Brooklyn Tech education. When coupled with a powerful curriculum that focuses on problem solving and critical thinking, they are the core of a high-quality STEM education.
A Vital Partnership
As Brooklyn Tech continues shaping STEM education, it has the Alumni Foundation as its strategic partner. This is essential to help generate resources to support Tech's enhanced STEM program.
Tech's alma mater song challenges graduates to "bring honor and praise" to Tech's name. This challenge drove the formation of the Alumni Foundation in 1983. Its dual purpose is to bring alumni together and to be a resource helping Tech sustain its high-quality education. In addition to raising millions of dollars toward that goal, the Foundation, working with the school, developed a modernization plan that continues to enable Tech to fully prepare students for the digital age.
With its highly diverse population of 6,000 students annually, Brooklyn Tech is by far the largest specialized high school in the country. This amazing size makes Tech significant in addressing the need for well prepared graduates to ultimately enter STEM-related fields.
Tech's capacity and unique facility enable its 18 academic majors (including such 21st century fields as biological science, environmental science, robotics and software engineering) to encompass the many dimensions of modern STEM education and be an incubator of innovative curricula.
Tech's majors provide student explorations in areas of interest that usually do not take place until college. Combining academic preparation with a career orientation enables students to see the interconnectedness between the classroom and the "real world" ahead.
The civil engineering major's materials testing lab, the law and society major's moot courtroom, and the aerospace major's flight simulator lab are but three examples of special facilities that actualize learning. All Tech majors encompass these experiences and, in many ways, define a Tech education.
A Changing World
For Brooklyn Tech to remain a leader, the Alumni Foundation and the school form partnerships that affiliate the majors with colleges, universities, corporations stakeholders and professional organizations. For example, the American Society of Mechanical Engineers (ASME), New York Institute of Technology, Stevens Institute of Technology, NYU Tandon, Nanotronics, Con Edison, and National Grid are linked to the mechatronics major.
These partners work with Tech faculty to review curriculum and to explore and identify new avenues for laboratory development so the labs fully complement the major curriculum. They develop internship experiences relevant to the majors, preparing students and teachers in real time for a changing world.
Tech has chapters or clubs of professional organizations including the American Society of Civil Engineers (ASCE), American Institute of Architects (AIA) and National Society of Black Engineers (NSBE). Such chapters do not usually exist in high schools. More of these connections will be created, benefiting Tech students and becoming models for other schools.
Access to Pathways
An amazing Tech education should be accessible to all young people. It is important that Brooklyn Tech be a leader in creating pathways to address the under representation of African American, Latinx, and women in STEM fields.
We started in 2013 with the National Grid/Brooklyn Tech Alumni Foundation/Brooklyn Tech Middle School STEM Pipeline program as a pioneering effort to attract students from low-income communities to STEM education generally, and specifically to Tech. Today our partnership with ASCE has developed the Future World Vision STEM Pathways Consortium. This ground-breaking initiative pairs Brooklyn Tech with seven Brooklyn middle schools and strategically connects school leaders, specialized faculty, and students.
Our journey in the years ahead will be exciting as Brooklyn Tech remains a STEM leader and becomes an even greater resource for other schools. This will build essential bridges that create a continuum for middle school, high school, and college STEM education. Our programs will be replicated in other schools. Tech will be a center for professional development for teachers throughout New York City.
All this will be made possible with the collaborative participation of our alumni, partners, and the Department of Education— and Brooklyn Tech will continue to shape the future of STEM education for the next 100 years.
Alumni Foundation co-founder and Chief Educational Officer Mathew M. Mandery '61 is the only Tech alum to serve as Brooklyn Tech Principal (1983 -87).
Stay Informed
Get the latest Brooklyn Tech alumni news and updates in your inbox.
All TechTimes Stories
TechTimes Fall 2022
TechTimes Fall 2023