Top Honors for Tech's Dr. Elisa Margarita
Dr. Elisa Margarita, who teaches environmental science and science research, coaches an award-winning Envirothon team, and is an Alumni Foundation Weston Scholars Program mentor was presented with the prestigious 2022 Sloan Award for Excellence in Teaching Science & Mathematics by the Fund for the City of New York & the Alfred P. Sloan Foundation.
Dr. Margarita has transformed the Environmental Science program at Tech, adding green spaces such as the hydroponics greenhouse and green wall to the program, providing her students with industry-level experiences and connecting them to professional organizations. When students leave her class, they understand how they can play an active role in helping protect the environment for future generations and are equipped with the skills and knowledge to effect change in the real-world.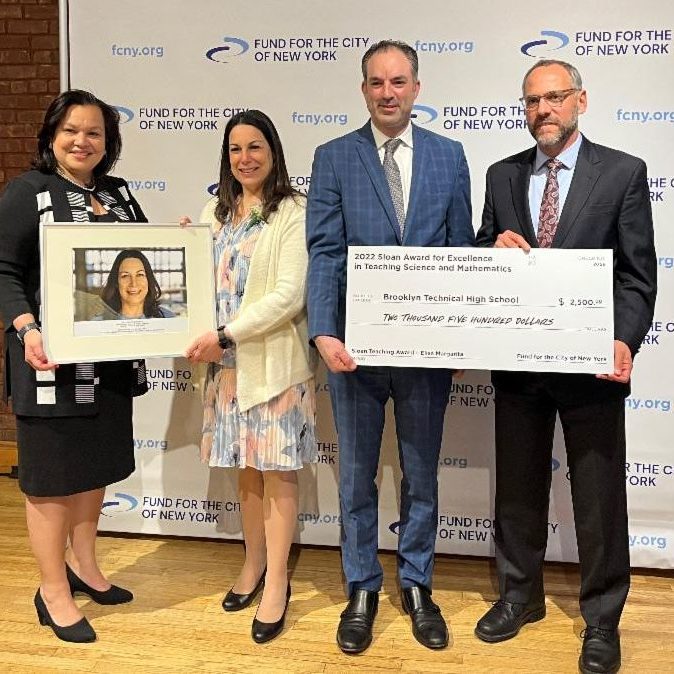 In the photo above, Dr. Elisa Margarita accepts her award (pictured, left to right): Lisette Nieves, President, Fund for the City of New York; Dr. Margarita, BTHS principal David Newman; Adam F. Falk, President, the Alfred P. Sloan Foundation.
Working alongside Elisa for the last 8 years has had a profound impact on me. She cares deeply about her students, colleagues and the school community and am so happy her work is being recognized with this award.
Ms. Kelly Lovelett
Assistant Principal
Stay Informed
Get the latest Brooklyn Tech alumni news and updates in your inbox.
The Brooklyn Tech Alumni Foundation Board of Directors and staff are pleased to welcome Courtney J. Ulrich '90 as the Foundation's new Executive Director.
more