Ms. Rachel Germany, Esq.
In addition to being the home base for Brooklyn Tech's City Championship-winning Moot Court and Mock Trial Teams, the Courtroom also hosts daily Law and Society (LAS) classes in Criminal Law, Criminal Procedure, and Civil Law. The Courtroom provides a unique setting for these courses to run simulations of legal environments such as mock trials, moot court arguments, contract negotiations, and alternate dispute resolution scenarios. Additionally, in the last quarter of their senior year, LAS students work in the forensics lab to produce reports analyzing a crime scene and then play out a mock trial based on those reports in the Courtroom.
The room that now contains the Courtroom was originally a storage space for the wood that was used in the pattern-making course. A NYC Council grant secured through the Alumni Foundation and Alumni Foundation funds made it possible for the Courtroom to be built in 2012. As an additional contribution, the portraits in the Courtroom are gifts of the Foundation's late past president, Larry Cary '70.
Mr. Derek Swartz and 2022-2023 NYC PSAL Champion Boys and Girls Varsity Swim Teams
The Brooklyn Tech Natatorium is home to the legendary Engineers swimming teams. The four-lane pool facility is also the site of unique Tech traditions such as the Annual Cardboard Boat Regatta, sponsored by the the Brooklyn Tech Alumni Foundation and Tech's National Society of Black Engineers (NSBE) chapter. A crowd favorite during Brooklyn Tech's National Engineering Week celebrations, the competition includes categories for Speed, Spirit, Design, and, of course, a Titanic Award for sinking.
In 2022-2023, the Brooklyn Tech varsity boys and girls swim teams both won the NYC PSAL Swimming and Diving Team Championships — making Tech's program, led by Coach Derek Swartz, the undisputed best in the city. 
Ms. Trish DePinto / Mr. Rich DePinto
Rooms 1N4 and 1N6 are home to the Media Communications major. In what were originally machine shops, students are now able to develop skills in visual design, utilize the full suite of Adobe design software, and capture both still and moving images using industry standard equipment. A Media Communications major at Tech would be able to take, among other courses, Studio Art and Adobe Visual Design for Print Production in their junior year as well as AP 2D Art and Design, Adobe Visual Design for Film Production, and Digital Animation in their senior year. In addition to these advanced courses, students can earn a variety of industry credentials including Adobe Photoshop, Illustrator, and Premiere Pro, making them more prepared to develop their own ideas and demonstrate technical competency in internships, college courses, and post-college jobs. Media Communications at Brooklyn Tech is a NYS-approved Career and Technical Education program.
Mr. Michael Boulis
Room 1N8 is home to the Civil Engineering major and has undergone a series of renovations to transform this space into a state-of-the-art material testing lab. This is thanks to the generous support of the Alumni Foundation, a grant from the DOW corporation, a lead donation in honor of our late alum John Cavanaugh, and Parent Association funds, allowing students to have the opportunity to utilize state of the art material testing equipment to analyze the physical characteristics of building materials. This capability is integrated into junior year courses including PLTW Civil Engineering and Architecture and Engineering Statics. During their senior year, students in the Civil Engineering major can earn industry certifications in concrete testing (ACI), land surveying (NSPS), and AutoCAD. Civil Engineering at Brooklyn Tech is a NYS-approved Career and Technical Education program.
Mr. Timothy Lyons
Room 1S12 is home to the Computer Integrated Manufacturing lab, an important component of the Mechatronics and Robotics Major. In this space, computer programming and robotics meet manufacturing. Students utilize an industry-standard software package as well as a combination of traditional metalworking tools and state-of-the-art manufacturing processes. Rapid prototyping using 3D printers, laser cutters, and CNC machines allows students to quickly design and manufacture objects using a variety of materials. These skills are incorporated into the Mechatronics and Robotics sequence of courses, including courses specific to Robotics Engineering, Mechatronics, and Digital Electronics. In addition to earning college credit from these advanced courses, students can earn industry credentials including Autodesk Inventor. Mechatronics and Robotics at Brooklyn Tech is a NYS-approved Career and Technical Education program.  
Once a part of the aeronautics program, 1S12 was transformed into its current function as a robotics lab through a generous donation of our late alumnus, Isaac Heller '43. More recently, contributions from Susanne Ellis have enabled the upgrading of equipment, further enhancing the level of expertise gained by students in the Mechatronics and Robotics Major. In addition, the robotics team utilizes this space, and is sponsored by Con Edison, alum Alan Silberstein '65 and the Picatinny Arsenal, among others.
Alumni and friends may check their coats here for Homecoming. On a regular weekday, you would find Physics students in this classroom.
Class Photos / Athletic Programs
This gymnasium is home to Brooklyn Tech's championship athletics teams and serves as a gathering spot for the Alumni Foundation's Homecoming events.
Please refer to your program for a schedule of Class Photos, which will take place in the gym. Don't miss yours!
Brooklyn Tech's Conrad McRae '89 Memorial Gymnasium was renovated and dedicated in 2016 with generous funds from an anonymous alumnus, facilitated by the Alumni Foundation.
McRae, who died tragically in 2000, was a professional basketball player who showed extraordinary promise in the sport while on Tech's varsity basketball team. He was named PSAL High School All-City from 1986–89; was selected to the 1989 McDonald's All-American Team; and participated in the Junior Olympics.

Brooklyn Tech today is more driven than ever to realize its purpose: to educate, train, and inspire the next generation of leaders in science, technology, engineering, and mathematics. But even with this vision in mind, how does one translate it into concrete improvements to the curriculum? What must change in the current structure in order for Tech to best serve the student body? Realizing the importance of addressing these and other foundational questions in order to maximize Tech's impact and level of education, the CARETECH (Committee to Assess and Revise the Education at TECH) project was launched in Spring 1998. By November 3 of that year, the 250 members of the Tech faculty gathered at a conference held in the Chase Bank Conference Center to define the key issues for assessment and discuss ways to improve the curriculum, as well as to put in place an organizational structure for carrying out the proposed work. Over the next nearly 25 years, Tech's investments in student education, through projects supported in large part by the Brooklyn Tech Alumni Foundation, have been aligned with its vision.
Painted by artist Steve Harrold, a Seattle native, who attended the conference, the mural captures key elements of the conference which are now quite literally a part of Tech's foundation. With the constantly advancing technical skills demanded in order to lead and thrive in our society, there is no end to the challenge of finding new ways to translate our vision into concrete improvements to our educational system and resources. In other words, there is no end to applying the underlying philosophy which the November 1998 conference celebrated for the first time. Seen by thousands each day, this mural is a visual record of a particular moment that did much to build the Tech of today and bring to focus an exciting and trailblazing Tech of the future.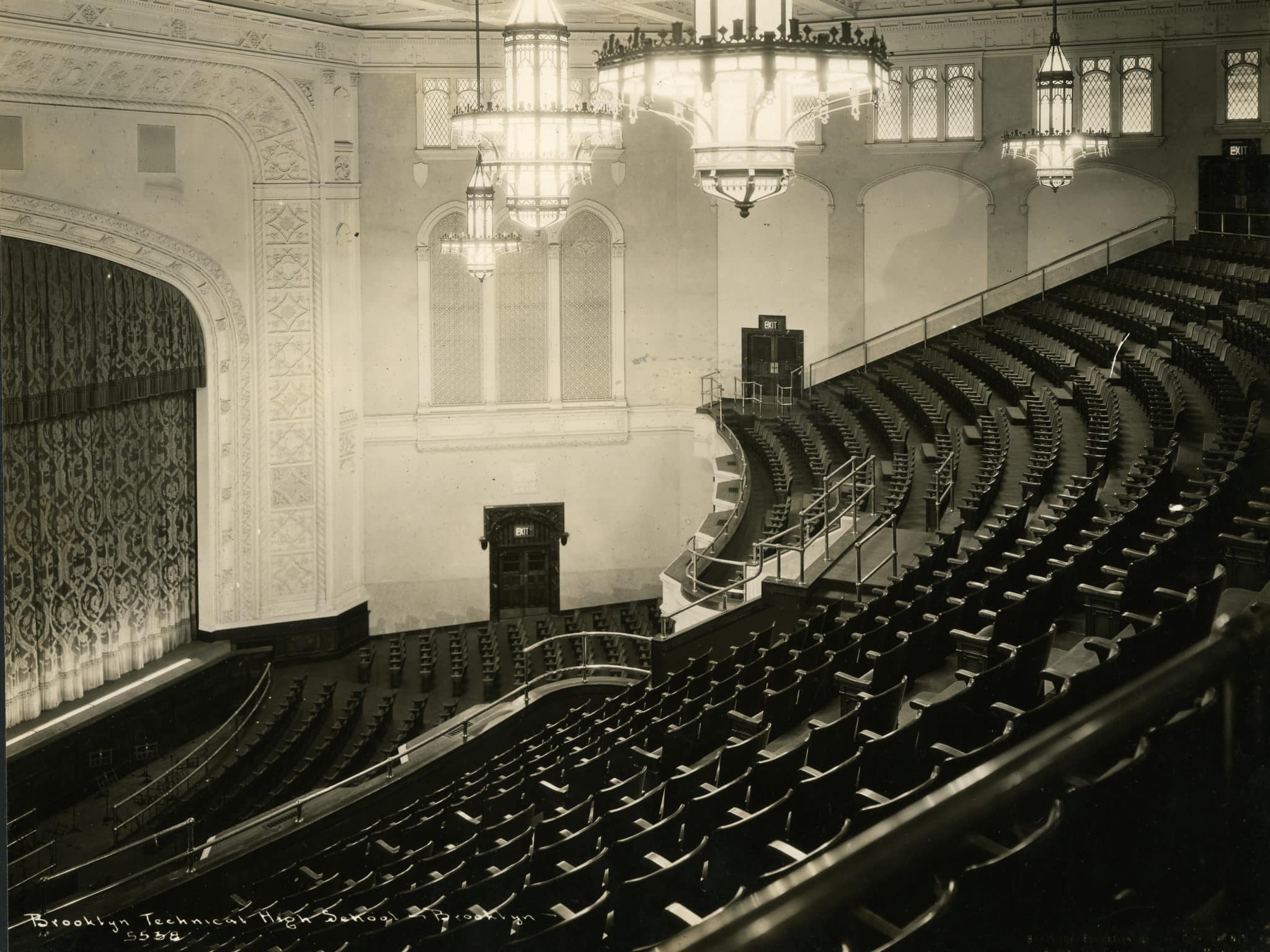 Brooklyn Tech's 3,100-seat three-tiered auditorium is the fourth largest theater venue in all of New York City. The orchestra level seats approximately 2,000 people, with additional seating in the mezzanine and balcony sections.
Mr. Louis Morgan / Mr. Lewis Malchick
BTHS Science Bowl Club was created circa 2005 with Louis Morgan as advisor. The Science Bowl Club prepared students to compete in the National Science Bowl regionals (High school). Winners of the Regionals are invited to Washington DC for the National Finals.
We first started to attend Regionals at the Brookhaven National Lab (Long island) where we won our first Regional in 2008. Members of our first Regional winning team were Alvin Zhang, Kamellia Saroop, Zaccariah Toaha, Najeeb Abdullah, and Viktor Roytman.
We also won the Regional at City College of NY in 2009!
The Science Bowl Club is still striving with president Can Jian, Jiaxing Wang (VP) and advisors Dr Estrella and MrMorgan!
Launched in 1991, the National Science Bowl® (NSB) is a highly competitive science education and academic event among teams of high school and middle school students who compete in a fast-paced verbal forum to solve technical problems and answer questions in all branches of science and math. Each team is composed of four students, one alternate student, and a coach. Regional and national events encourage student involvement in math and science activities of importance to the Department of Energy and the Nation.
Mr. Richard Lopez
Led by Coach Richard Lopez, the Brooklyn Tech Chess team, proudly sponsored by the Alumni Foundation, has the stature of being one of the top teams in the State of New York. Recent accomplishments include outstanding results at the 55th New York State Scholastic Championships held March 11 and 12, 2023: 1st place: Under 1800; 1st place: Under 1200; and 4th Place, High School Championships, in addition to recent national trophies for individual members of Tech Chess.
Tech alumni who have contributed to American chess history include: Maurice Ashley '83, the first Black International Grandmaster and a member of our Hall of Fame; International Grandmaster Robert Byrne '46, who served as the New York Times chess columnist from 1972-2006; his brother Donald Byrne '48, an International Chess Master; and Rochelle Ballantyne '13 , who is close to becoming the first Black woman in the United States to become a chess master.
Ms. Shaina Doherty '01
Digital Electronics (Junior Year) 
The introductory Electrical Engineering course introduces students to the implementation of logic systems with digital components. Ranging in complexity from basic logic gates through state machine design, students will learn circuit design techniques to implement combinational and sequential logic systems consisting of AOI Logic gates, adders, multiplexers and flip-flops. Projects range from simple input/output circuits from our first two class projects in the fall term utilizing simulation software to test their design concepts, breadboards to test the physical circuit forms, and more recently programming of FPGAs using PLDs and DLBs. In the spring term, students explore how sequential logic design can be applied to practical applications to build synchronous counters which leads to state machines. 
Digital Systems Design (Senior Year) 
Building on the concepts learned in their junior year, students dive deeper into the design of complex circuit systems by creating their own simulated and programmed components in Multisim. Students learn how to create sub-circuits to address algorithmic design Project include a BCD to Seven-Segment Display Decoder, an adaptable binary to BCD decoder, and Arithmetic Logic Units utilizing Multiplexer and a selection of their personally created sub-circuit components.  
A special partnership with Engineering Tomorrow and their circuit systems lab inspired students to use Arduinos for unique circuit applications. Additionally, the majority of students have learned how to solder THT components to build simple circuit projects through complex radio kits. 
Girls Who Code Club 
Hi! We are Brooklyn Tech's branch of Girls Who Code, which is a national organization that aims to support and increase the number of women in computer science by equipping young women with the necessary computing skills to pursue 21st-century opportunities. We uphold and expand these values in every aspect of what we do: we aim to empower in their STEM and future endeavors as we cultivate a community of sisterhood through coding education. Our club meets every Monday and in our sessions, we teach programming languages such as Python, Java, JavaScript, and Web Development skills to our members, meanwhile hosting hackathons, and projects in collaboration with other organizations and clubs. We also offer ample resources and spread awareness of opportunities that are available. This Sunday would be our 10th anniversary of Girls Who Code and there are 8500+ programs established internationally (including this one!) and serving 300,000+ girls. We welcome you to explore us more in this Homecoming event in Room 2N8! 
Dr. Tom Price
Room 3N3 is home to the Aerospace Engineering major. In this space, students utilize state-of-the art flight simulators and engage in engineering design with a focus on aeronautics. In an age of rapid advances in aeronautics and space engineering that usher in the possibility of everyday supersonic travel, a bourgeoning low-Earth-orbit economy, and much more, the tools Aerospace Engineering majors at Tech gain in their courses are fundamental to preparing them to lead in their field. Courses unique to this major include PLTW Principles of Engineering, PLTW Aerospace Engineering, PLTW Computer Integrated Manufacturing, and Flight School. In addition to earning college credit from these advanced courses, which allows Aerospace Engineering majors to advance to higher level courses once in college, preparedness to lead in the field of aerospace engineering is ensured through the opportunity to earn industry credentials, including Autodesk Inventor certifications and the FAA Private Pilot certificate. Aerospace Engineering at Brooklyn Tech is a NYS-approved Career and Technical Education program.
Dr. MacRae Maxfield
Brooklyn Tech students have participated in NYC Science Olympiad for at least 15 years and competed at the New York State tournament for the last 9 years.
Science Olympiad is an American team competition in which students compete in 23 events pertaining to various fields of science, including earth science, biology, chemistry, physics, and engineering. Over 7,800 middle school and high school teams from 50 U.S. states compete each year.  There are multiple levels of competition: invitational, regional, state, and national. Invitational tournaments, run by high schools and universities, are unofficial tournaments and serve as practice for regional and state competitions. 
The 23 events fall into 4 categories:
1. purely knowledge-based where a pair of team members take written exams.
2. purely engineering-based where a pair of team members construct a device ahead of time and operate it at the tournament.
3. Hybrid where a pair of team members pre-build a device and operate it or perform hands-on activity while also taking a written exam.
4. Inquiry where members respond to prompts to complete experimentation, solve cyphers, and create and then follow instructions to recreate a complex design.
At each competition, there are 48 competitor slots that must be filled by the 15 team members.  Thus, each member is expected to compete in 3 or 4 events.
Dr. Elisa Margarita
The state-of-the art Con Edison lab features an aquaponics system, multiple aquariums, computers, a laptop cart, LaMotte kits, and various probes. This assortment of equipment enriches the courses and projects that form the backbone of the Environmental Science Major. Students in the major take Advanced Placement Environmental Science their junior year and Project Lead the Way Environmental Sustainability their senior year. Students in Environmental Science also create and maintain eco-columns for a period of months and conduct water, soil, and air tests, using various probes in the Con Edison lab to test the conditions of the mini ecosystems. Students adjust nutrient levels and other environmental conditions as needed to keep their organisms alive and their environment stable. The juniors also raise trout to learn about the relevance of watersheds and, when the fish reach maturity, release them into a state-approved location as part of a breeding program. Students in Environmental Sustainability design and build a bat house and green roof models. The students work closely with Tech's Sustainability Coordinator to implement a waste prevention, reuse, recycling, and energy conservation plan for the building. Just outside of the room is a green wall, contained in a former display case, constructed and maintained by Environmental Science students. 
This facility transformed an unused space that was home to an outdated Industrial Chemistry Laboratory created when the building opened in 1933. The original design for the Environmental Lab was based on student designs assigned to the Environmental Classes of 1998, 1999, and 2000. Building the Environmental Science and Engineering lab was made possible with a lead Con Edison grant, a grant from the New York City Council, and support from the Brooklyn Tech Alumni Foundation.
Dr. Horace Walcott
The Weston Research Program comprises four classes of BTHS sophomores, juniors and seniors led by teachers with research experience.  Enrolled students develop research skills while they develop and conduct their research project directed toward presentation at recognized science and engineering competitions or publication in a peer-reviewed journal.
With the guidance of their teachers, the 105 students work independently or in groups of 2 or 3 to acquire a functional command of the literature and essential skills relevant to a topic of active research.  They then compose a research question, hypothesis, and experimentation procedure capable of testing the hypothesis.  Their research topics have included biological, physical, chemical, behavioral, mathematical, computational, and data sciences and engineering.  While some gain internships in New York area research institutions, most students use resources at school made available by the Alumni Foundation
Like professional researchers, the research students find that project success is uncertain and demands attention, initiative, and innovation far beyond the classroom and includes independent summer work. Successful students are recognized in school at the end of their senior year in a "Whitecoat Ceremony".
Ms. Kelly Lovelett
Welcome to room 4N8! This is the Anatomy & Physiology room, where students in the Biological Sciences major learn human anatomy through a medical lens. We use the desks at the front of the room for lecture and pre-lab discussions and the tables at the back for dissection, microscope, and bone labs. 
Throughout the semester we cover all 11 body systems, as well as an introductory language of anatomy, tissues, and cancer. We use the microscopes to examine tissue slides and look for abnormalities seen in malignant tumors. We perform muscular, thoracic, and abdominal cavity dissections on a mink and shark. We use bone models to re-assemble a skeleton and learn the bone markings. We have a real skeleton hanging in the locker! We use sphygmomanometers to measure blood pressure and listen to the heart rate. We use clay to create integumentary models and sculpt bone ligaments and tendons.  We use other models and posters to view the major organs and get an idea of how all of the systems work together.
Mr. Rich Singler
Rooms 5N2 and 5N4 are home to the Architecture major. In these spaces, students develop skills in manual drafting, utilize industry-standard design software, and construct models using a range of traditional woodworking tools. To bring these modeling skills into the 21st century, our students also have access to rapid prototyping equipment including 3D printers and laser cutters. The Architecture sequence of courses includes Architectural Drawing and PLTW Civil Engineering and Architecture in the junior year, and AutoCAD, Building Materials and Fabrication, and Architectural Drawing II/Modeling in the senior year. In addition to earning college credit from some of these advanced courses, students also have the opportunity to earn industry credentials including Autodesk Revit, AutoCAD, and OSHA-30. Architecture at Brooklyn Tech is a NYS-approved Career and Technical Education program.
Mr. Michael Fisher
Room 5N3 is home to the Industrial Design major. In this space, students develop skills in product design, utilize industry-standard design software, and fabricate a range of products using traditional woodworking tools. To bring these fabrication skills into the 21st century, our students also have access to rapid prototyping equipment including 3D printers and laser cutters. These tools are incorporated into the Industrial Design sequence of courses, including Methods of Fabrication and Product Design in the junior year, and Advanced Modeling, Inventor Certification, and Adobe Visual Design for Print Production in the senior year. Students in Industrial Design have the opportunity to earn industry credentials including Autodesk Inventor, Adobe Photoshop, and Adobe Illustrator, providing them with further advantages when entering college and early-career internships. Industrial Design at Brooklyn Tech is a NYS-approved Career and Technical Education program. Our Industrial Design program is enhanced by a Glass Technology partnership with Urban Glass and St. Francis College that is sponsored by alumnus Thomas Volpe '53.
Dr. Tom Blozy
5N7 is one of the classrooms where Mathematics majors at Brooklyn Tech take their courses and is a hub for the mathematics community at Tech. The integral role this room continues to play in harboring this sense of community is a fitting legacy to the room's namesake, Isadore Glaubiger.
The Class of 1965 recognized Isadore's lasting contributions as a prominent member of the mathematics department at Tech and as one of the coaches for Tech's math team with a dedication of this room in his honor.
Today, 5N7 plays the crucial role of providing the Mathematics major with a lab in which students can pursue mathematics in the many ways the major offers including through advanced placement-level courses, computer programming, and original research. These are coupled with courses which are typically encountered only in college undergraduate mathematics curricula including graph theory, linear algebra, and number theory.
For those who are fascinated by the theory and application of mathematics, this is a space which offers rich opportunities for conversation with fellow majors and teachers with exceptional teaching experience. Everyone here is united by a common love of mathematics, and the Mathematics major at Tech is designed to cultivate this passion through its unique curriculum. 5N7 is where students benefit from this curriculum on a daily basis.
A plaque was dedicated here earlier this year: "In Memory of Milo Kessler '21: A superstar Brooklyn Tech Applied Math Major who loved nothing more than working on a math problem and recognized that math is everywhere and everywhere is math."
Dr. Risa Parlo / Dr. Michael Estrella
5N8 is a fully equipped Genetics Lab. In their senior year, our Biological Science students take Genetics where they explore the use of modern genetic and molecular biology techniques. This includes being introduced to and mastering the use of micropipettes, incubators, centrifuges, PCR machines, microscopes with remote high-resolution screens, gel electrophoresis, and much more. A sample of experiments which our scientific equipment allows our students to perform includes: DNA extractions, restriction enzyme analysis, chromatographic separation, and bacterial transformations. 5N8 also comes equipped with a laptop cart that is used to teach bioinformatics topics such as DNA alignments and phylogenetic trees. Experience with these topics, techniques, and experiments provides our students with an advantage in college and when applying to internships. This lab, and the great opportunities it provides, was made possible with Alumni Foundation support, a NYC Council Grant, and assistance from Cold Spring Harbor Laboratories.
Librarians and English Faculty
The Library The library's mission is to create a dynamic, 21st century learning environment and to empower students to be creative and critical thinkers, enthusiastic readers, skillful researchers, and ethical users of information. ​
The library staff — including librarians Ms. Joanna Drusin, Ms. Joy Ferguson and Katrina Kaplan — and community do this by:
Sharing innovative resources and strengthening 21st century information literacy skills through inquiry-based learning, 

Promoting reading and learning for pleasure, 

Working with educators to design learning strategies to meet the needs of classes and individual students, and 

Providing an interactive, collaborative and warm space for diverse students and faculty. 
Dr. Matthew MacLean
6N8 is the home of the Social Science Research major. Central to the major curriculum and experience is a year-long research course where seniors complete a long paper on a topic of their choice in the social sciences or history. Students work independently and make use of a set of laptops dedicated to the class. Before working on their projects, students use the fall semester to develop information literacy skills, learn to evaluate the usefulness and reliability of a variety of sources, and familiarize themselves with the library databases they will use in college: JSTOR, ProQuest, Academic Search Premier, and a variety of more specialized online resources available at the NYPL and BTHS libraries. The spring semester is devoted to writing their papers. The goal is for students to arrive at college with research and writing skills typically seen in advanced undergraduates. Beginning in Spring 2022, selected papers will be published in Inquiry: a Journal of Humanities and Social Science Research, our new BTHS student research publication. The lab was created with Alumni Foundation support and a NYS Legislative grant.
Brooklyn Tech Alumni Merchandise and Orchestral Ensemble
Brooklyn Tech Alumni merchandise will be for sale in the center cafeteria during Homecoming and Brooklyn Tech's outstanding orchestral ensemble will perform. To learn more about Tech's first-rate music curriculum, the bands, orchestras, and choruses, please visit this page. 
During the school day, there are six lunch periods that each accommodate one thousand students. In Tech's early days, students ate on china plates. 
Mr. John Cunningham
The original blueprint of Brooklyn Technical High School contains a greenhouse structure that had been dormant for at least 25 years. With support from the Brooklyn Tech Alumni Foundation and Con Edison, the room was transformed into a hydroponics greenhouse and is utilized as an extension of the Con Edison Lab. The Greenhouse Lab is an indoor agriculture space used for the teaching of science and sustainability. This unique greenhouse includes several different hydroponic farming systems for the growing of a wide variety of leafy greens and herbs, as well as tomatoes, cucumbers, bell peppers and many other types of flowering plants. In total, students use this space to grow up to 500 lbs of fresh food from seed for annual harvest. The greenhouse also includes an aquaponics system, in which the waste from approximately 50 tilapias in a tank undergoes biofiltration and is used to feed plants growing on the top of the tank - an example of a closed loop system. Integrative pest management techniques and worm composting are implemented in the greenhouse classroom as sustainable practices.  
Sports Demos – Physical Education Faculty / Coaches
Brooklyn Tech is home to more than 40 Public School Athletic League teams and many sports clubs. Each year, the Engineers are City Champions in sports that span the gamut from track and field, to soccer, swimming, table tennis, and handball. Physical education teachers and students will be on hand during Homecoming to provide athletics demonstrations in this athletics facility, which some alumni (and especially alumnae!) will remember as the former girls' gymnasium.